Who we support...
Over the period spanning the development process for the Dream Coder's Realm team, they have received a truckload of support in which they thank God for. What better way to show their appreciation, than to have a page dedicated to those who helped them get here.
Want us to support your site?
Well first put our above logo on your site and link it to www.dreamcodersrealm.com.

What we want from you:

- We will need something useful that you can do for us to help support us. Like get us our own ftp site.
-or help us with advertising our site.
-or help us with code
-or help help us with a money donation
-or anything else you think will be helpful.

What you get:

-We will support you with software meaning if you ever need some software, we will help you.
-We will always be there for you in the digital world and will try to help with software solutions!
-Your logo will be on this page.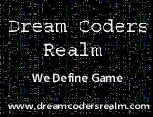 Please email me here saying you would like to support us and how you would like to do it

brandon@dreamcodersrealm.com